Karoo 2's features, connectivity, and vibrant display adapt to your ride time needs. To give a good estimate of what you can expect from your Karoo 2 battery, we have outlined the effects of different features on battery life below.

Karoo 2 is estimated to achieve between 7 and 14+ hours of battery life depending on the features employed during usage. Below are some tips and tricks to maximize battery life for those longer rides.

If you're looking to ride longer, Karoo 2 has a "Battery Save Mode" in Control Center and Settings that can expand the operational life of all of these modes.

As with any battery life estimation, there is a degree of uncertainty that is introduced with temperature, sensor behaviour, interactions and the age of your device. For example, colder temperatures will temporarily lower the capacity of the battery.
Tips for Maximizing Your Battery Life:

Choose ANT+ over Bluetooth: We recommend that riders looking to stay out longer use ANT+ sensor connections over Bluetooth sensor connections. Riders looking to maximize battery capacity should have no problem with 3 paired ANT+ sensors.

Cut the cord: As with any device, pairing a phone and connecting to the internet will contribute to battery drainage, as will receiving notifications and installing an active SIM card. By disconnecting and enjoying your ride, you'll further extend battery life.

Plan ahead: Find a good balance in your route planning. Lots of turns and way points will consume more battery life when compared to a similar distance route with less turns. Similarly, if you get lost, Karoo 2 has to re-route and will spend additional processing power to rapidly recalculate a viable new alternative. Enabling and connecting other GPS features like LiveTrack will also contribute to battery drainage. In fact, just swiping off the map page when you're on straight sections can help you extend your ride time.

Pro tip: Using the map fully zoomed in and tilted with 3D buildings is the most power-intensive setting.

Turn down the brightness: As with any electronic device, one way to maximize battery life is to turn down the brightness. Setting brightness to 15% or lower will aid you in riding longer with Karoo 2. The % brightness level can be seen on the "Display" details screen in the Karoo 2 Settings.

Focus on the road: Riders seeking to maximize battery life should consider limiting their in-ride interactions with Karoo 2, as changing the screen every few minutes will have an impact on battery life.

Plan your Data field setup: The use of graphical data fields will impact battery life proportional to the number of data types represented.

Avoid Rearview Radar in high traffic: Using a Rearview Radar with your Karoo 2 may result in additional reduction in battery life when operating on highly trafficked roads. This reduction will be in direct correlation to the amount of vehicles that pass during your ride.
Testing Conditions
GPS Settings: GPS; GLONASS; BeiDou; QZSS
Data Recording Interval: 1 second
Main Data Page In-Ride: Data field Page (7 data types)
The stock profile "HR + Power" was used, which has 3 pages of numeric data and a map page featuring 4 data fields.
Temperature range: -10°C to 40°C (14°F to 104°F)
The Karoo 2 operating temperature range is rated for -10C to 50C, but for the purposes of testing battery life, all tests are run at 23C +/- ~10C.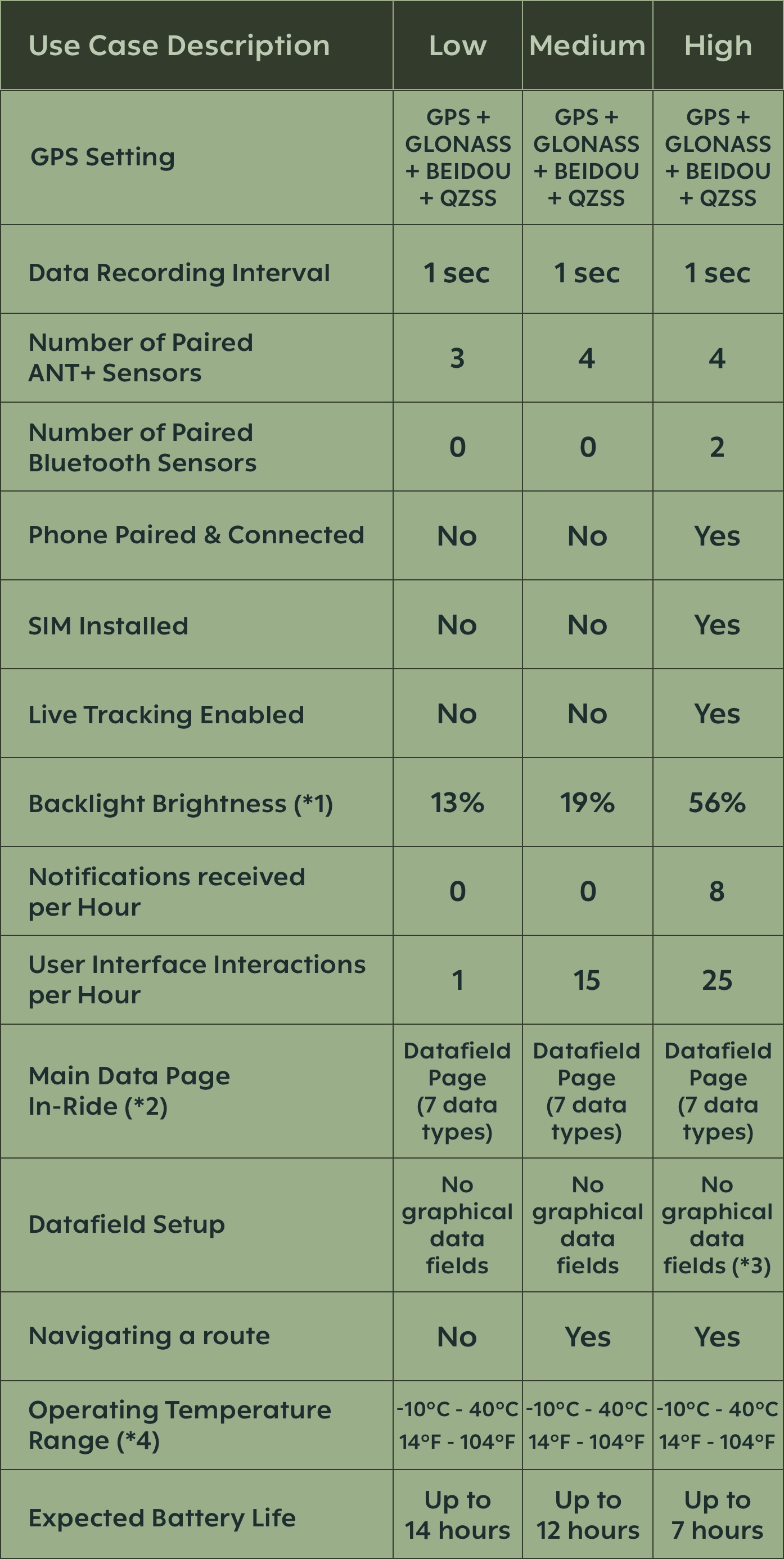 Related Articles: